Fundraiser Featuring Handmade Bowls and Chili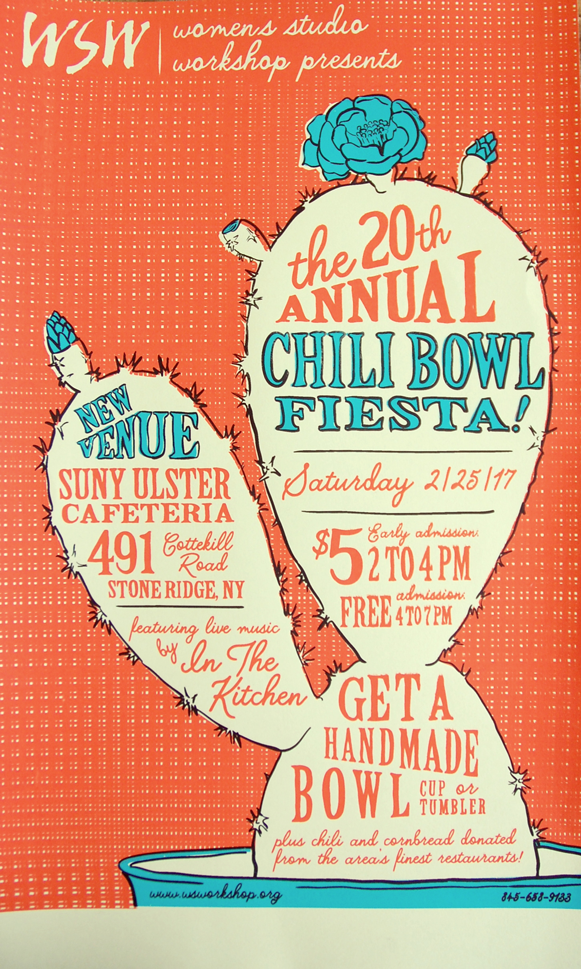 The Women's Studio Workshop invites the community to come in from the cold and warm up at the 20th Annual Chili Bowl Fiesta Fundraiser where friends can browse and buy from a vast selection of handmade bowls, enjoy a helping of hearty chili generously donated by Hudson Valley restaurants and chefs, and dance to lively music by The Kitchen. During early admission, the best selection of handmade ceramics will be available. The live music takes place during free admission. The chili is available while it lasts, either served up in one's newly acquired ceramic bowl or purchased at nominal cost in paper bowls. Cornbread and toppings are included in either case.
Prices start at $10 for a small bowl or one with a simple design. Larger, more elaborately decorated pieces or ones made by professional artists can cost upwards of $50, but much of the selection falls somewhere in the middle of that range.
Snow date Sunday, February 26.
The Student Life Dining Center, Vanderlyn Hall
$5 Early admission: 2:00 p.m. - 4:00 p.m.
Free admission: 4:00 p.m. - 7:00 p.m.


For more information, contact Ruth Burket, Ceramics Studio Manager, at (845) 658-9133 or info@wsworkshop.org.