February 8th at 10am on the Stone Ridge Campus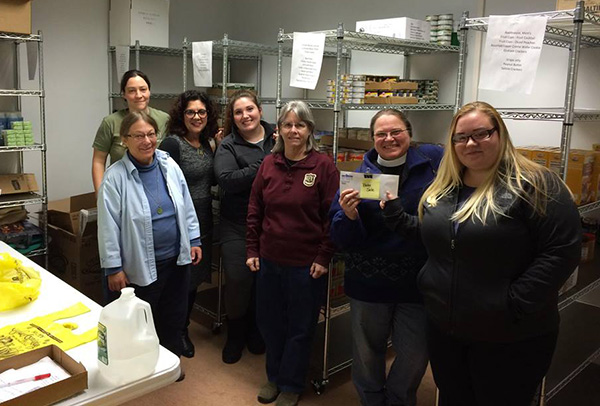 February 2, 2017
SUNY Ulster Holds Grand Opening for Food Pantry on February 8th 
In Response to Growing Food Insecurity on College Campuses Nationwide
Please join us for this news and photo opportunity - the grand opening of the SUNY Ulster food pantry - a new and necessary resource.

SUNY Ulster is holding a grand opening celebration for its new food pantry on February 8, 2017 at 10 a.m. in the atrium of the bookstore in Vanderlyn Hall. (Snow Date: February 9 at 10 a.m.) The Right Reverend Mary D. Glasspool, Assistant Bishop of the Episcopal Diocese of New York, will be speaking, along with SUNY Ulster V.P. Kevin Stoner, and a representative from the student body.
Open to students, faculty, and staff - with no proof of need required - the food pantry has been established to help ease the challenges of balancing life and learning. "A student who is well-fed is more likely to perform better in the classroom than one who is hungry. SUNY Ulster doesn't want students faced with the decision of whether to buy textbooks or food. In addition, many of our students are adults with the need to feed a family in addition to themselves," says V.P. and Dean of Academic Affairs, Stoner.
The impetus to start the food pantry was supported by a 2015 study completed by four campus-based organizations – the College and University Food Bank alliance, the National Student Campaign Against Hunger and Homelessness, the Student government Resource Center, and the Student Public Interest Research Groups – which surveyed nearly 3,800 students in 12 states between March and May 2016. Results revealed that 25% of community college students have food insecurity, and more than half of all first-generation students were food insecure. SUNY Ulster's matriculated student body is comprised of 24% first-generation students.
The food pantry, which is sustained through grants and other financial support, recently opened to the campus community on a very limited basis. It has already served over 3,700 lbs. of food to 288 individuals. Going forward, the food pantry will be open one day per week with the expectation of expanding to two.
The Episcopal Diocese of New York Campus Ministry Committee and St. Andrew's Episcopal Church in New Paltz are the primary sponsors of the Food Pantry, with additional support by Christ the King Episcopal Church in Stone Ridge, The Reverend Alison Quin, Rector, and the Rondout Valley Food Pantry. The pantry is co-sponsored by SUNY Ulster.
The establishment of the food pantry on campus was made possible by the Reverend Robin L. James and Dr. Catherine T. Kelly, together with SUNY Ulster's Vice President, Kevin Stoner and Coordinator of Health, Mary Tyler.