Pablo Shine & Dina Pearlman at the ART Bar Gallery in Kingston, NY
Last chance to see the exhibit this weekend, and join us at our Closing Reception this Saturday, July 23rd 4-7pm
Art Bar Gallery, 674 Broadway, Kingston, NY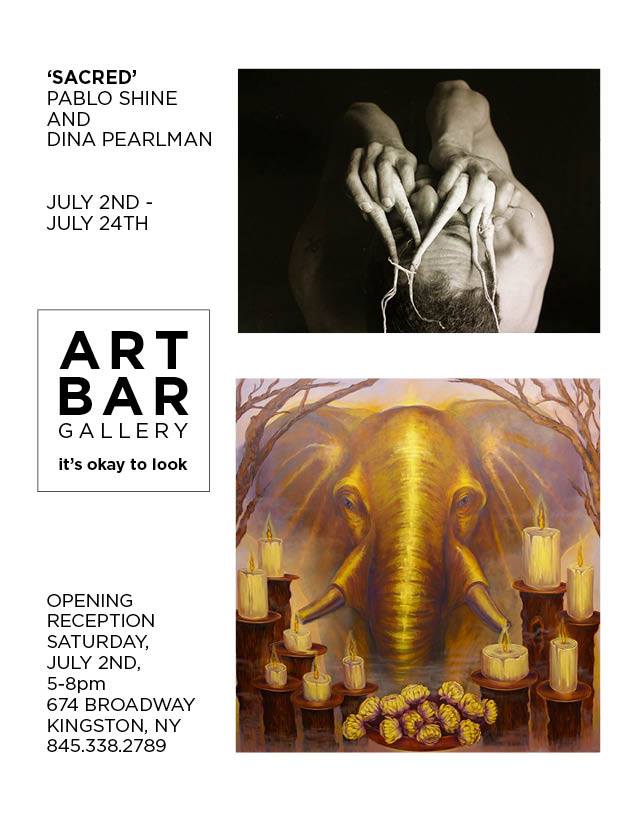 Pablo Shine
My work is inspired by a variety of sources...The flora and folklore of my native Puerto Rico. The African presence, manifested in the music and spirituality, brought to the island by the African slaves during the age of colonization. Latin American literature has also been another source of inspiration. Authors like Neruda, Garcia-Marquez, Lorca and Borges have nurtured my portraiture and still life paintings. Abstraction was a vital way of expression in my creative endeavors during the1980ʻs.Currently I am revisiting my relationship with abstraction while continuing my exploration and development of figurative work.
Dina Alcalay Pearlman
Working in several mediums; photography, printmaking, mixed media and encaustic paint; my recent studio work has taken on a more formalistic approach, including suggestions of people, figures dancing, playing instruments or embracing. Despite this, there is still ambiguity of shapes reflecting the body in motion, ghosts, dreams, layers that suggest centuries of impressions on city walls. My artwork reflects directly upon the inner world of my personal experiences; travels in Europe and Latin America, music, dance and my love of texture, graffiti, petroglyphs and the patinas of surfaces worn by time.
The Totem series exhibited at the Sacred show is the latest in an exploration encaustic paint, paper, and scraps of old prints. The figures whisper of gods, goddesses, deities and devils and ecstatic dancers.
The other body of work, the photography series, the result of decades of portraits from 1996- 2016, collaborations with the many creative people in my life. My goal is to inspire and discover the inner workings of their own creative spirit. Using everything from fruits and vegetables, to objects used in a personal creative path or sacred culture, the play that happens between the subject and their object becomes form and context. Having a background in alternative photographic methods ranging from liquid light to palladium prints and Polaroid transfers, my latest experimentation adds encaustic wax to digital prints. I find the wax, an organic element, makes the coldness of digital prints come alive... pixels have texture, become liquid, the surface almost begs to be touched.