Opening Reception Saturday, April 9, 5:00-7:00 p.m. Wired Gallery
PABO SHINE: OFFERINGS
Works inspired by flora and folklore of Puerto Rico

April 9 – August 14, 2016
Opening Reception:
Saturday, April 9, 5:00-7:00 p.m.
In conjunction with two other shows opening in the area
-------------------------------------------------------------------------------------------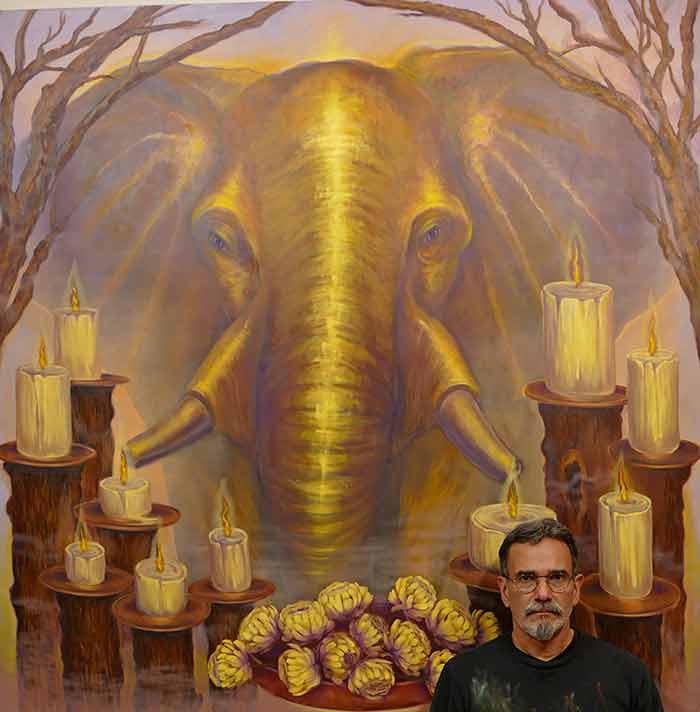 GH FALLS, NY -- On Saturday, April 9 Wired Gallery opens a solo exhibition of recent works by SUNY Ulster faculty Pablo Shine at Coldwell Banker Village Green Realty at 3656 Main St. in Stone Ridge, NY.
The opening reception from 5:00 to 7:00 p.m. is sponsored by Stone Ridge Wine and Spirits and is held in conjunction with two other art openings presented by Wired Gallery: in High Falls, at Wired Gallery, The Shirt Factory Artists; and in Accord at Friends and Family 2 Hillside Restaurant, William Noonan Solo Show.
Pablo Shine's latest oils continue to explore the flora and folklore of his native Puerto Rico as well as the island's African heritage manifested in the music and spirituality brought by slaves during the age of colonization. His images of elephants depict one of the symbols for Obatalå, an African deity in the Lucumî religion. Several oils from the artist's "Spirits of Loiza" series pay tribute to the folkloric characters seen during summer celebrations in Loiza Aldea in Puerto Rico who wear brightly colored masks and costumes with bat-like wing reminiscent of harlequin from the commedia dell'arte.