Five Students Selected to Study Graphic Design at LaSalle University in Mexico City
January 19, 2016
SUNY Ulster Awarded Grant for Student Travel
Five Students Selected to Study Graphic Design at LaSalle University in Mexico City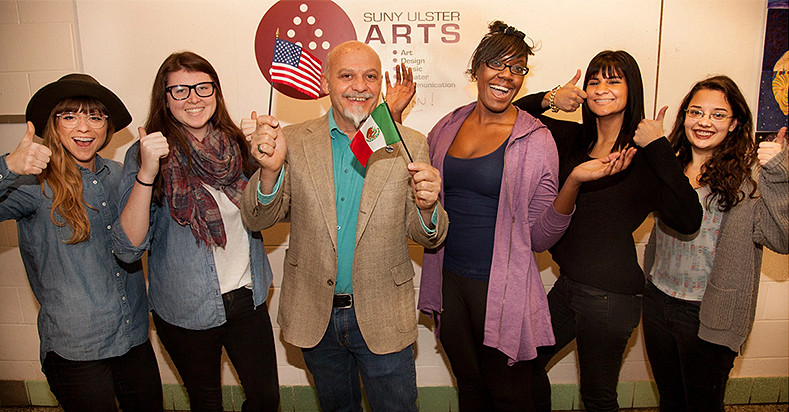 SUNY Ulster has been awarded a Santander Global Scholars Award enabling five current students to travel to Mexico City for one week in March of 2016 to study graphic design at LaSalle. The scholarship recipients include Elizabeth Jobson, New Paltz; Joan Mena, Kingston; Morgan Schaffrick, Hurley; Jennifer Thomas, Rosendale; Tiffani Woods from Wallkill; and Tyler Williams, Highland, as an alternate.
The students have been selected through a competitive application process from Associate Professor Sean Nixon's Design class- Graphic Design 3/ Real World Classroom Mexico. The application process included an essay, portfolio review, demonstration of leadership skills and the maintaining of a 3.5 GPA.
Real World Classroom is one of a growing array of COIL (Collaborative On-Line International Learning) courses offered at SUNY Ulster that enables students to learn along with international students through technologies such as Skype - allowing students to see each other and speak face-to-face. The five scholarship recipients will be joining their fellow LaSalle University Design students from Mexico City for further study that includes an overview of Mexican culture and history, intercultural awareness class, and professional site visits to design companies, museum and cultural site visits.
"The Real World Classroom Design program is committed to international study by offering every design student an international experience while in the program," said Professor Nixon. "This can range from a critique by a Professor from another country via Skype to travel to another country. The opportunity to apply for the Global Scholar award ignited a spark of pride with a touch of healthy competition among the students. They see the application process and actual acceptance as an acknowledgement of hard work that will pay off for years to come. The present generation wants to travel, to have more opportunities to expand their worldview. We are interested in developing a designer that is a global citizen – with experience to contribute to the Global economy."
SUNY Ulster has been steadily growing its COIL offerings to include courses in many areas of study. COIL courses have included Business courses with Lebanon, Criminal Justice with the University of Bologna, Italy and Entrepreneurship with Brazil, among others. Whether students plan on transferring to a four-year institution or starting a career directly upon graduation, COIL classes improve resumes. It's a unique experience that helps students grow academically and personally.
###